Like hosta blooms and summer mosquitoes, the Pennsylvania State Real Estate Commission's audit period has returned to the Commonwealth.
The commission mailed letters dated Aug. 1 (2014) to hundreds of real estate sales and broker licensees, asking them to prove they completed 14 hours of required continuing education before renewing their licenses, and by no later than May 31. A copy of the audit letter appears below.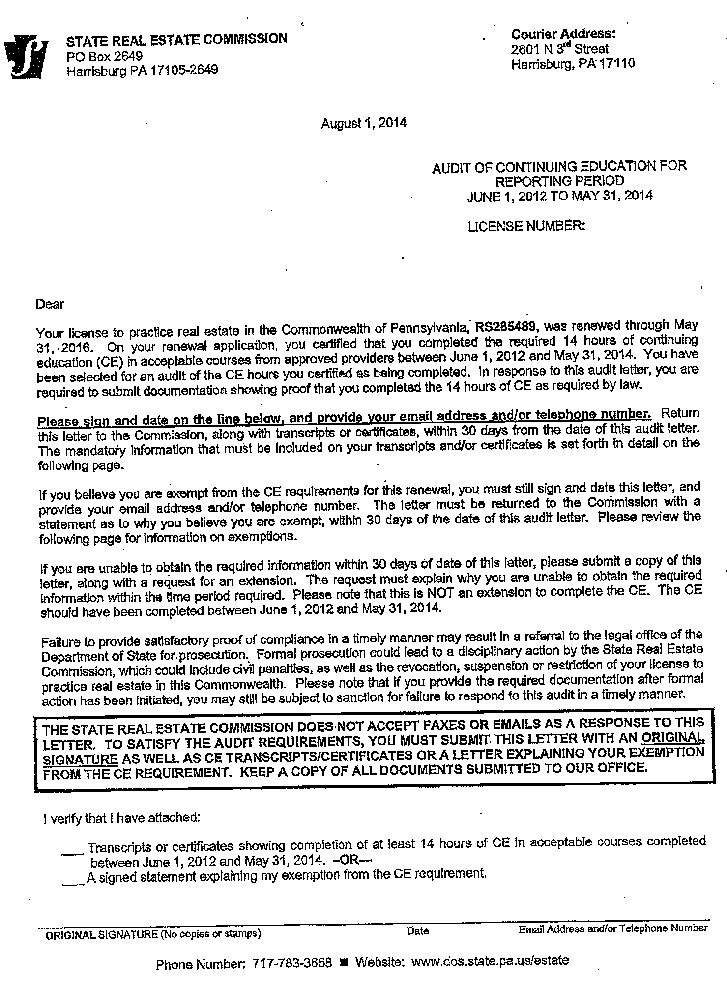 A significant percentage of, but not all, licensees will be chosen for audit. If you receive such a letter, don't panic … at least, not if you obeyed the state's rules and regulations.
We'll assume you attended or received continuing education from Polley Associates (for which, by the way, we thank you). Following the end of each course, Polley would have e-mailed a transcript documenting your completion.
Polley transcripts are cumulative, which means every successive transcript in a renewal cycle shows earlier courses also completed. If you took a 7-hour CE course in April, for example, and another 7-hour course in May, the May transcript displays both completions. That's the one you'll want to print out and send in response to the audit within 30 days.
If you are missing or have lost your Polley transcript(s), call our office. We can supply replacement transcripts via e-mail at no charge.
The audit letter must be signed and dated at the bottom, and be accompanied by your e-mail address or telephone number. Staple or otherwise attach the transcript to it. We recommend you make copies of both for your files, and we recommend returning the package by certified mail. The state does not accept faxes or e-mails.
We expect you already know there are potential penalties if you renewed your license without completing CE, or if you are practicing with an expired license. Neither would be good.
There also are potential penalties if you don't comply with or respond to an audit letter, or if you reply too late. So don't wait; act on and respond immediately to an audit letter if you get one.