Pennsylvania Real Estate License renewal is due by May 31, 2024. Fourteen hours of real estate continuing education are required to be completed before the license can be renewed.
Polley Associates offers a full line-up of approved courses ready to meet your real estate continuing education needs. We offer classroom, self-paced online, and live-streaming courses (via Zoom). You pick what works for you, and find the topics and dates that fit your personal schedule and interests.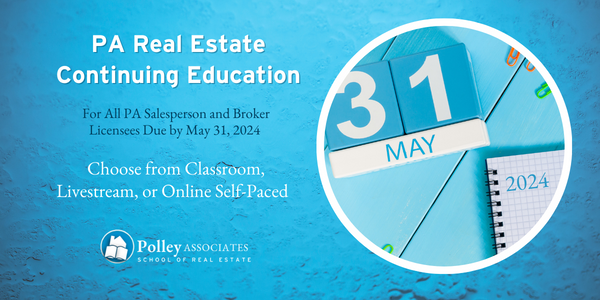 What CE should I take?
"It's my first time taking continuing education."
All licensees renewing taking CE for the 1st time must take the General Module (7 hours) AND the Residential Module (7 hours) OR the Commercial Module (7 hours)
"I have taken continuing education before."
All veteran licensees must take at least 3.5 hours of mandatory instruction on the topic of "diversity" this cycle.
We offer a 3.5-hour course covering this requirement, "Diversity in Real Estate." We also offer a 7-hour option, "At Home with Diversity," which may also qualify you for a NAR certification for the course.
The remaining hours can come from any CE or PA broker-approved course. (Including General or Residential Modules)
*Only courses approved as the "mandatory topic" apply to this requirement.
"I need to take continuing education because my license is inactive."
Those re-activating prior to 12/01/2021 need 14 hours to reactivate AND additional 14 hours (3.5 in Diversity) by May 31, 2022). (see above).
Those re-activating on 12/01/2021 or later need to ensure they complete an appropriate 14 hours (see above).
License Renewal
All license renewals are completed in the Pennsylvania Licensing System (PALS). The portal typically opens the license renewal option sometime in March or April of renewal years (the exact date varies). Once the portal for license renewal is available, you will log in to your PALS account to complete your renewal.
PA does not require that you send in transcripts. Rather, you will be asked on your renewal application whether or not you have completed your mandatory continuing education hours. The Real Estate Commission will then audit licensees after the May 31, 2022 deadline to ensure that the hours have been completed by requesting your transcripts.
Questions? Contact us!