Polley Associates School of Real Estate offers three different learning formats. Courses at Polley Associates are available via Classroom, Livestream (Zoom), or Online (Self-paced). With Polley Associates no matter how you choose to learn; you will be provided with the same gold standard of real estate training to start your new career.
Livestream (Zoom)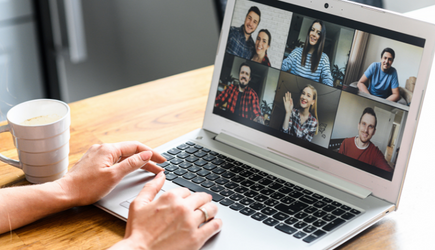 Polley Associates offers online classes in a live-streaming classroom (Via Zoom). The same state-approved courses we provide in the school can be taken conveniently.
Students receive the same quality materials we hand out in the classroom, shipped direct via UPS. You'll have a live instructor presenting the course, just as in a classroom setting, who can answer questions and create a real classroom experience for students in a virtual room. Polley Associates offers daytime classes, evening classes, and weekend classes. All Polley Associates live-streaming courses have an instructor and a Polley Associates co-host. The co-host is available to students who may encounter a technical support problem.
Livestream students attend via Zoom from wherever they can use a desktop, laptop, tablet, or smartphone—students must log in from a device that enables video and audio. Students will see, hear, and interact with a Polley Associates instructor and interact with other students.