Know More. Earn More. It's Easier Than You Think
To obtain your PA Real Estate Broker's License, applicants must have three (3) years of experience as a real estate salesperson and earn 16 credits which are equal to 240 hours of pre-broker instruction. One credit will be granted for a 15-hour Polley Associates Pre-Broker course. Two credits will be granted for a 30-hour Polley Associates Pre-Broker course.
Applicants may take courses in the Classroom, via Livestream (Zoom), or Online (Self-paced).
Guide to Becoming a Real Estate Broker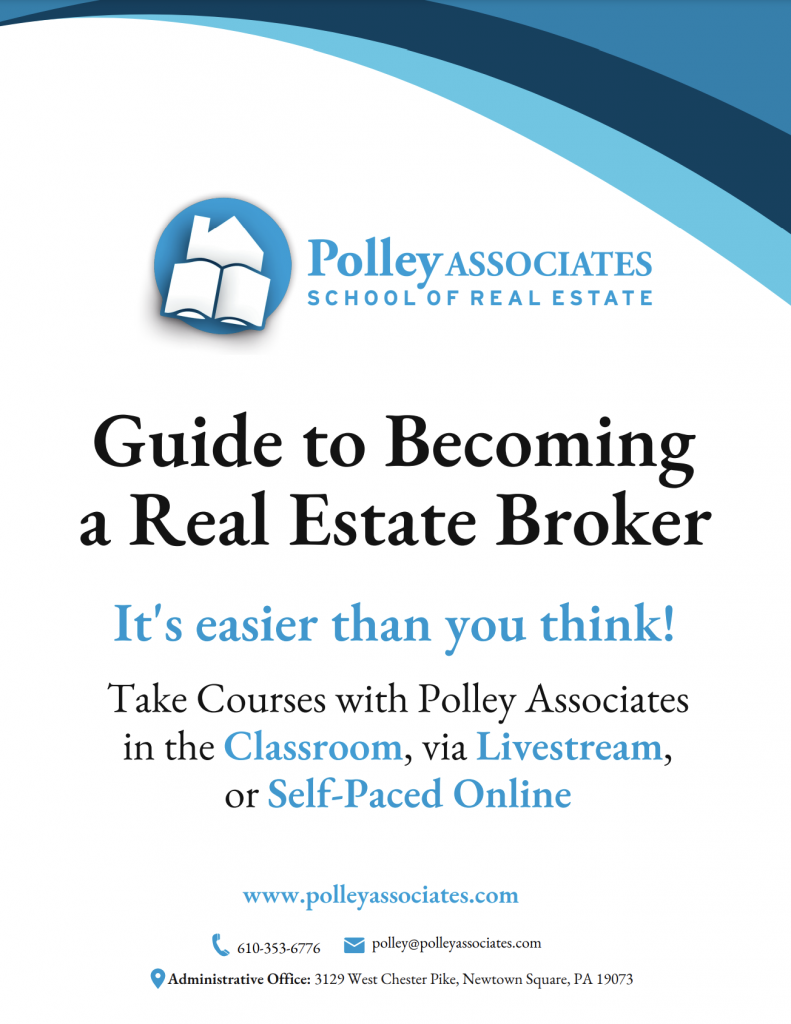 Obtaining a PA Real Estate Broker's License is among the highest achievements in the real estate business. Only a small percentage of all real estate licensees become brokers or associate brokers. Broker licensees can choose to strike out alone and open a brokerage. However, many earn broker licenses for a far different reason: knowledge.
Agents who know more, sell more. Polley Associates' broker license education prepares them to answer questions knowledgeable clients are likely to ask … for example, about real estate financing, about real estate investments both well-known and obscure, or about starting and finishing residential and commercial developments.
The best benefit of becoming a broker is that it paves the way to greater efficiency, higher productivity, and increased profitability for real estate practitioners.
Still Have Questions? View Our FAQ Page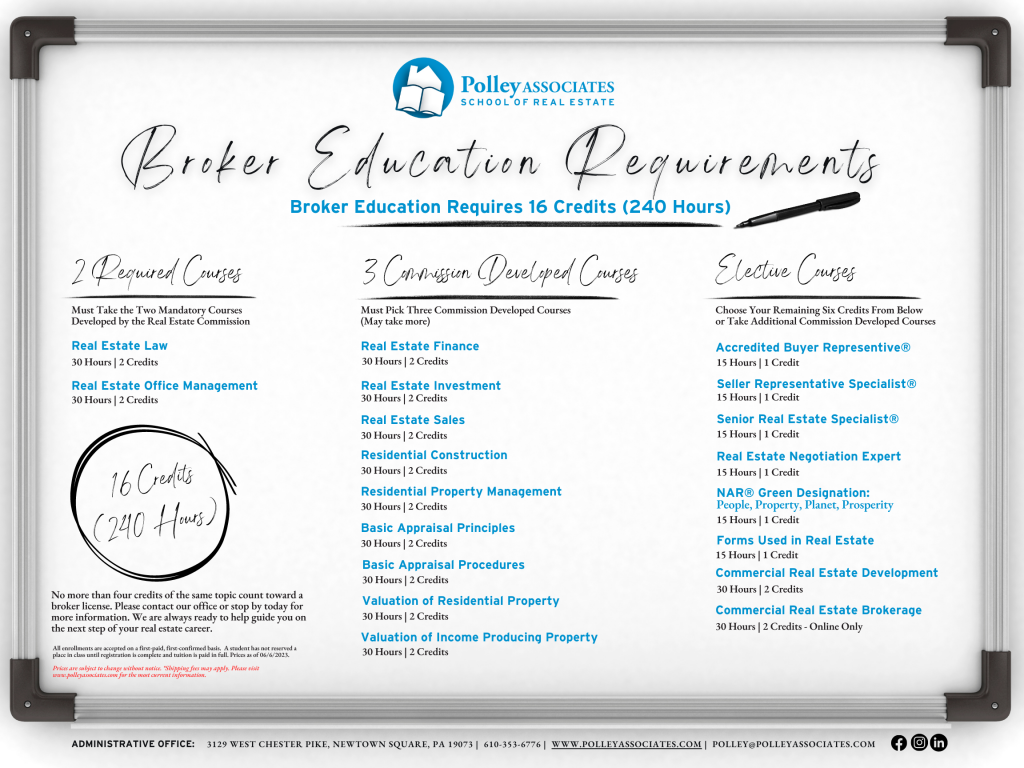 Three Ways to Take PA Broker Courses
Livestream (Zoom) Broker Courses
Attend Broker courses via Zoom from wherever you can use a desktop, laptop, tablet, or smartphone—students must log in from a device that enables video and audio. See, hear, and interact with a Polley Associates instructor with other students. Best of all, you'll gain valuable insights into how to best satisfy buyers and sellers alike. That puts you on a faster and more profitable track for the future. Details about our virtual courses.
Classroom Broker Courses
Take a well-earned day off, travel to a Polley Associates classroom (we've got several state-wide), and take your broker courses with friends and colleagues. Our instructors are knowledgeable, entertaining, and work in the business. Our courses are designed to get you thinking (maybe even arguing!) over policies and strategies that may affect your future brokerage. They can help you make money, too.
Online (Self-Paced) Broker Courses
Polley Associates offers two (2) self-paced online real estate pre-broker courses approved by the Pennsylvania State Real Estate Commission. There's something for every interest: property valuation and sales pricing, the basics of appraising, and even what it's like to operate a commercial brokerage.
---
---
New Jersey Real Estate Broker Education
We currently do not offer classes to obtain NJ broker licenses. Looking for NJ Continuing Education? We offer Livestream (Zoom) and Classroom options.
---
Are You an Attorney? You Could Qualify for a Broker License
An increasing number of attorneys-at-law who practice in Pennsylvania inquire about obtaining a license to sell real estate. Some simply want to expand their skills, talents, and abilities. Some want to prepare for a client's future needs. Some intend to sell real estate as an adjunct to their law practice. See if you qualify: Attorneys as Brokers
---
Our Tuition, Refund, and Enrollment Policies
When you enroll in, register for, participate in or attend any Polley Associates course or class, you automatically agree to be bound by our terms, procedures, and policies. Please read them here.