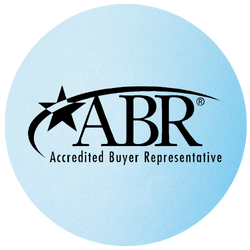 Two-day, 15-hour course
It is Pennsylvania State Real Estate Commission authorized for 1 credit toward broker's license requirements
Buyer representation continues to be one of the real estate industry's hottest trends. Tens of thousands of agents across the country have become Accredited Buyer's Representatives® (ABR®). Many earn hefty incomes representing buyers exclusively.
That's because buyers have demonstrated their willingness to pay for specialized representation. Due to abundant media coverage, buyers have learned that most agents protect only the sellers' interests. Buyers want protection too. Are you, the real estate licensee, in the position to give it to them?
The valuable real estate education gained by completing the ABR® Designation course elevates your skills and knowledge in the eyes of home buyers. You also receive ongoing specialized information, programs, and updates that help you stay atop issues and trends in successfully representing home buyers. Membership in the Real Estate Buyer's Agents Council® (REBAC®) which is included free for your first year after completing the course, provides an assortment of marketing tools and resources that offer an advantage over non-ABR® competitors.
REBAC® is affiliated with the National Association of REALTORS® (NAR).
What The Course Covers
The overall goals of the ABR® Designation Course are to 1) prepare real estate professionals to thoroughly represent buyer-clients in real estate transactions, and provide the quality of service and degree of fidelity to buyers that sellers have customarily enjoyed; 2) offer ideas and methods for building a buyer-representation business, and 3) develop a self-customized tool for conducting a buyer counseling session.
Students learn to:
Win the buyer as a client;
Form a buyer relationship;
Put buyer representation into action;
Make offers, counter offers, and engage in negotiations;
Bring transactions to a successful close; and
Win repeat business and referrals.
Qualifications And Requirements
Take the two-day ABR® course. Find classes and get enrolled here.
Pass the exam at the end of day two with an 80% or higher score.
Within three years, also complete these other designation requirements:

Successfully complete an ABR® Designation elective course of either one or two days. Polley Associates schedules several electives annually. See a PDF document, here, that identifies all NAR® designations and certification courses, including those that serve as ABR® electives.
Document for REBAC® five completed transactions in which you acted solely as a buyer's representative; sorry, no dual agency transactions are allowed. Any transactions closed before taking the ABR® Designation course, or closed within three years after completing the course, are eligible for credit.

Maintain both your REBAC® membership and your membership in the National Association of REALTORS® (NAR®). Annual dues to maintain your ABR® Designation are $110. Your first year's membership dues are complimentary.
About The Designation
REBAC® was founded in 1988, in part to promote an exclusive buyer agency. Over several years it redefined its mission to endorse buyer representation in all its legally-recognized forms, altered its direction and strategy, and expanded its sphere of operation. REBAC® membership grew significantly, along with public interest in buyer representation. That resulted in changes to state real estate regulations, away from sub-agency – especially undisclosed dual agency – and toward direct representation of buyers. NAR® purchased REBAC® in November 1996, and the council has continued to oversee the ABR® Designation course and others.
Polley Associates Offers Elective Courses:
Before applying to become an ABR®, you must complete the ABR® designation core course and one elective option. Many of these elective options also count towards other designation or certification requirements.
**If you select an elective option from REBI, you must provide proof of course completion by uploading your certificate from the course with your application. Failure to upload a certificate will delay your application.
REBAC® is affiliated with the National Association of REALTORS® (NAR).
Other Courses You May Find Helpful
Representing buyers and handling real estate transactions requires agents to be prepared with a broad set of personal skills. In acting as a buyer representative, you may want to consider taking additional courses with Polley Associates. They include Real Estate Investment, Real Estate Finance, Real Estate Sales, and Standard Agreement of Sales Forms. Some are frequently scheduled, depending on location; some are offered only periodically.