When PA real estate license renewals are due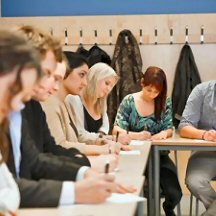 All Pennsylvania licenses for both real estate salespersons and real estate brokers expire on May 31 of every even-numbered year (for example, May 31, 2024; May 31, 2026).
It is illegal for licensees to practice real estate with an inactive license.
The State Real Estate Commission usually mails license renewal notices two to three months before license expiration dates. Notices are mailed to the most recent employer address reported to the commission, and NOT to the licensee's home.
Only brokers, associate brokers, and salespersons seeking to renew their licenses are required to complete continuing education. New licensees are exempt from the requirement if their license is issued after Dec. 1 of the year preceding the renewal deadline.
Taking real estate continuing education for Pennsylvania
The state Real Estate Licensing and Registration Act requires brokers and salespersons to complete 14 hours of commission-approved continuing education, offered by a commission-approved provider, during each two-year license period. Polley Associates is a commission-approved provider that offers a wide variety of only commission-approved continuing education.
Licensees have two options to fulfill the requirement:
Take any combination of live or online continuing education courses (totaling 14 hours) during the renewal period; or
Must take the required half-day course as well as any broker course of 15 or 30 hours. Polley Associates' broker courses are commission-approved for continuing education.
Ninety percent of live classroom CE sessions must be attended for course credit; 100 percent of online CE sessions must be completed for course credit. The Commission requires a photo ID for attendance verification in live classroom settings. Failure to comply can void course approval.
Continuing education must be completed BEFORE a license renewal application is submitted online or by mail. Licenses become "inactive" if licensees fail to complete continuing education when due.
Renewal vs. reactivation
Inactive licenses must be reactivated, rather than renewed. Reactivation costs more than renewal, so the delay has its price! Fourteen hours of continuing education must be completed for reactivation. Another 14 hours of continuing education must be completed before the next May 31 license expiration date to ensure the same license is renewed.
The risk of failure to renew a license
Licenses that remain inactive for five years become "expired." Licensees can neither renew nor reactivate an expired license. Instead, they must retake the state real estate licensing exam to obtain another license, although they are not required to retake sales licensing courses. To retake the exam, candidates must request a "Certificate of Exam Eligibility" from the commission, using a form available on its website.
In This Series:
Find Courses For: